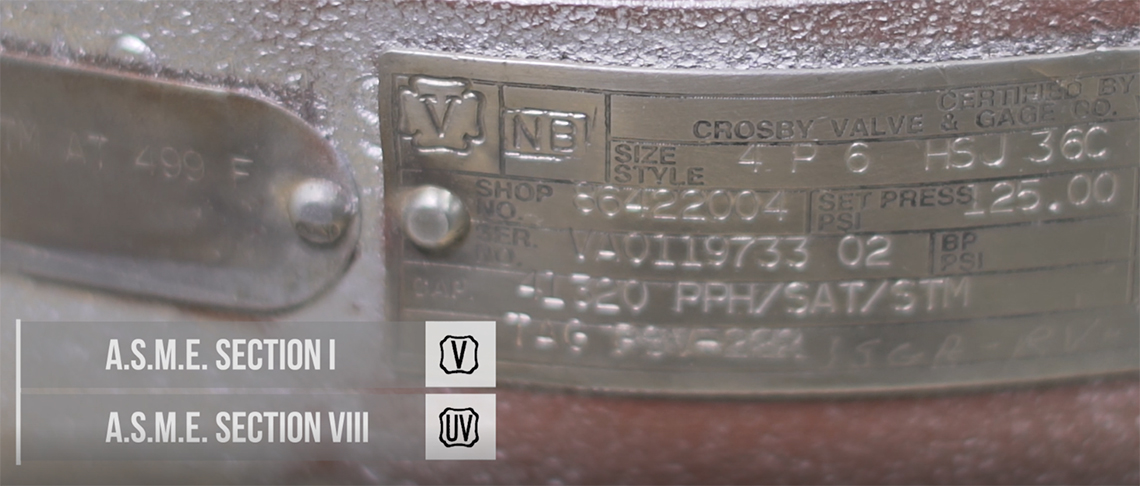 Control Southern is proud to announce that they are now a certified ASME Section I (V) and Section VIII (UV) Assembler's for Anderson Greenwood, Crosby and Kunkle Pressure Relief Valves. As a Local Business Partner for Emerson, Control Southern now maintains over $10M in inventory including pressure relief valves, ready for assembly and immediate shipping from our Macon, Georgia Mechanical Services location.
"We are very grateful to have received these new assembly certifications for three respected Emerson brands," states Doug Turner, President, Control Southern. "Customers can now partner locally with Control Southern to supply and repair every valve in their plant or mill. As always, we remain committed to the highest levels of safety and quality in our assembly and repair operations." In addition, Turner believes these safety valve certifications are another step in strengthening Control Southern's ability to deliver their customers the full scope of automation and reliability solutions.
Anderson Greenwood Brand
Anderson Greenwood brand is regarded as a worldwide technology leader in research, design, and manufacture of high quality premium performance pilot-operated and direct spring-operated pressure-relief valves as well as specialty products such as safety selector valves and tank blanketing regulators. The product technology of Anderson Greenwood solves applications for gas, liquid, steam, and multi-phase flow conditions in offshore oil and gas production, gas processing, refining, petrochemical, and chemical processing systems.
Crosby Brand
A market leader in direct spring PRV technology, Crosby was the first to certify on liquid service and one of only a few in the ASME I and III markets. Since 1874, Crosby direct spring-operated safety and relief valves have been among the world's most widely used relief valves for gas, liquid, steam, and multi-phase applications in oil and gas production, refining, petrochemical, and chemical processing systems. They are also used for utility and industrial steam generators, and steam systems in power generation facilities.
Kunkle Brand
Kunkle Valves offer a wide range of safety and relief valve products for industrial and commercial applications, providing lower cost of operation while exceeding quality and cost expectations. Kunkle Valve provides product from cryogenic through high temperature and vacuum through high pressure Steam, Air, Gas, and Liquid applications.
If you would like to learn more about Control Southern and how we can help with Pressure Management products and services Click Here or
Contact:
(770) 495-3100
About Control Southern
Control Southern, headquartered in Johns Creek, GA, partners with you to provide best-in-class technologies, process insights, and leading services that deliver reliable, safe, and efficient operations to support your plant's entire process lifecycle. As an Emerson Local Business Partner for Georgia, Florida and the Bahamas along with portions of Alabama and Tennessee, Control Southern connects customers with world-class solutions, superior technical expertise, and life-cycle services. We have the expertise to solve your toughest automation and control challenges. For more information, visit https://www.controlsouthern.com.
About the Emerson Local Business Partner Network
Across North America, Emerson strategically partners with local companies to assist with delivery, ensure quality, and maximize lifetime value of all automation assets. This integrated network of twenty-one strategically selected local companies, known as Local Business Partners, offer the tools, services, subject matter experts, local expertise, and technologies within and beyond Emerson's portfolio to serve all your valve, automation and reliability needs.
About Emerson
Emerson (NYSE: EMR), headquartered in St. Louis, Missouri (USA), is a global technology and engineering company providing innovative solutions for customers in industrial, commercial, and residential markets. Our Emerson Automation Solutions business helps process, hybrid, and discrete manufacturers maximize production, protect personnel and the environment while optimizing their energy and operating costs. Our Emerson Commercial and Residential Solutions business helps ensure human comfort and health, protect food quality and safety, advance energy efficiency, and create sustainable infrastructure. For more information visit Emerson.com.